NEWS FROM THE ENGLISH GARDEN
01 December 2017
Last week the English Garden Baby daycare, Nursery School and Pre-school celebrated American Thanksgiving. It is an English Garden tradition to encourage giving at Thanksgiving with a charity drive to provide Christmas gifts for disadvantaged children and families living in Hungary. The English Garden families generously provided toys, gifts, and treats and we were able to collect donations for over 100 children.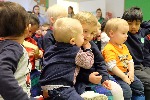 The oldest classes prepared a short Thanksgiving show for the entire English Garden to enjoy learning two special Thanksgiving songs and also performing a thought provoking little drama play. The children in the Grasshoppers, Crickets and Beetles enjoyed the excitement of practicing and memorizing the poems and songs, and performed beautifully in front of an audience. Learning songs and poems by heart allows even the newest English language learner to speak confidently, helping the children improve their pronunciation, and assists the children in getting feel of the rhythm of the English language.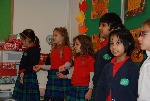 The Crickets learned about the traditions associated with American Thanksgiving and thought about what they were thankful for in their own lives. This week was also a continuation of the Kindness Project, and the children were able to make connections between the values celebrated during American Thanksgiving and the values emphasized during the Kindness Project, especially gratitude, respect, and generosity.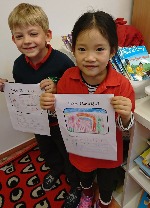 The children in the Grasshoppers class were excited to see the gifts they brought to donate displayed in the entrance area. The Year 1 class felt proud that they had helped someone in need and were enthusiastic about placing their gifts onto the pile.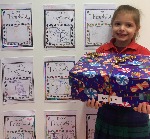 The Bumble Bees made several Thanksgiving art projects, including a lovely portrait of their families. Beside discussing a lot throughout the week about all those things that the children are grateful for and appropriate a lot in their lives, they also emphasized good manners in their every days and gave a good example to the little ones how often actually you can say thank you to others for all kinds of little or big things.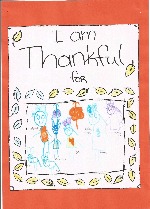 The Dragonflies' art project was a lovely turkey made using collage techniques. The children liked sticking the long strips of colourful paper onto the body. They also completed a sentence on something they were thankful for!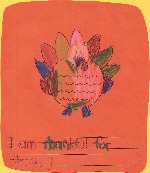 Butterflies explored the topic through different group discussions. They made colourful handprint turkeys which required additional decorating once dry.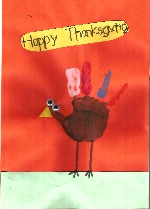 Ladybirds explored things which they like and don't like. They talked about be caring and showing kindness and thanks by giving hugs!
Buttercups and Snowdrops have been learning about traditional Thanksgiving food. The children made colourful handprint and foot print turkeys.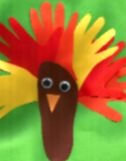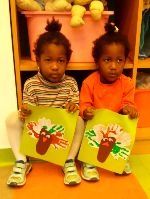 The Poppies looked at different images to represent different things they can be thankful for, they liked looking and point at the different pictures on the poster.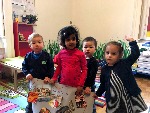 The babies and toddlers from the Daises and Bluebells groups enjoyed watching the older children perform their Thanksgiving play. They also brought along all the lovely gifts they had collected.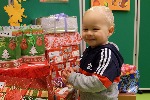 HAPPY THANKSGIVING 2017!