NEWS FROM THE ENGLISH GARDEN
03 November 2017
This time of the year we celebrate Festivals of light from around the world. The festive atmosphere started with Diwali. Diwali is celebrated in India and worldwide with festivities that include fireworks shows, bright decorations, and colourful rangoli. The children enjoyed preparing for the celebration by making beautiful artwork to decorate their classrooms and by learning about different Diwali traditions through stories, discussion, and multi-media presentations.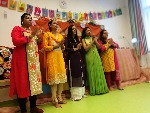 On 31st October was our annual Halloween party at the English Garden Pre-school, Nursery School and Babydaycare celebrated Halloween with a costume party, pumpkin carving, and lots of arts and crafts activities. This child-oriented autumn festival is a great way to introduce children to storytelling, fantasy, and role-play and to encourage children to explore and confront their fears through developmentally appropriate activities. Fear, conflict and conflict resolution are important aspects of storytelling and actively engaging with scary topics or plots in a developmentally appropriate way can give children the tools they need to navigate their lives with confidence. For young children this means listening to traditional fairy tales and playing fantasy games that develop imagination and social skills.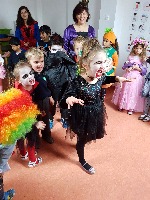 On Halloween the babies in the Daisies had a costume parade and enjoyed simple games like peek-a-boo and watching puppets sing songs. The babies are fascinated by puppets and love to watch cuddly and colourful puppets and soft toys during Circle Time.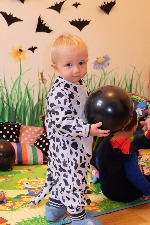 The Bluebells had a fabulous time at the Halloween party. The children loved dancing in their costumes and celebrating with their friends.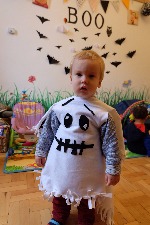 Last Friday when English Garden Pre-school and Nursery celebrated Diwali a group of wonderful parent volunteers made the day extra special with singing and dancing. The Poppies loved watching a short demonstration of Indian songs and dancing performed by the traditionally dressed parents.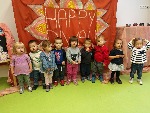 In the Grasshoppers class the Year 1 students made rangoli using water paint. This activity combined art with maths. The class is learning about tessellating shapes in their geometry lessons as part of the Maths Makes Sense programme. The geometric rangoli patterns were a real-life example of tessellation. The children loved making the patterns and talking about the 2D shapes they painted.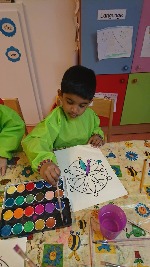 The Crickets learnt about the Hungarian day of All Saints which see candles lit in memory of those no longer with us. Discussing culture events helps the children develop a sense of community in the classroom and encourage positive relationships between students. The class made candle pictures decorated with glitter and worked on their writing skills.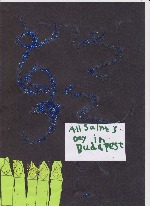 The Beetles class was learning about another celebration with firework. In Britain, 5th November is Bonfire Night. The Beetles to celebrate this upcoming day, made fireworks by using paint and wrote the first part of a poem to practice their independent hand writing skills.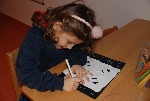 The Buttercups loved sticking colourful and sparkly paper bits to create their Diwali decoration. This wonderful hands on arts and crafts activity helped them learn about diyas or the small lapms that we light at Diwali.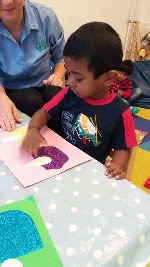 The Snowdrops had lots of fun when using their led flashing wrist band bracelets. These permitted them to have lots of hands on experiences to learn about reflections and shadows. It also taught them about the sources of light, that light is all around us and it comes in many forms.
On Halloween the Ladybirds had a costume parade. Each child had the chance to present their unique costume to an audience of parents and classmates. The children had many opportunities to explore role-play and fantasy throughout the week through story time activities and puppetry.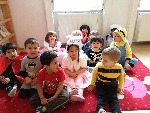 The Butterflies learned about clothing and dress up. Halloween is a great time to practice dressing skills and work on children's independent dressing through fancy dress and role play.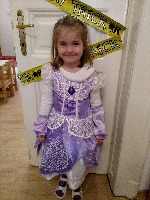 The Bumble Bees made Halloween witches, another fun hand printing activity. The children enjoyed listening to several fairy tales tales involving witches, including Rapunzel, Hansel and Gretel, and Sleeping Beauty. These fairytales inspired their imaginations and the children loved acting out the stories in the dramatic play corner.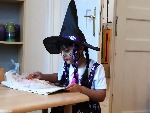 The Dragonflies enjoyed Diwali celebration and many children were excited to share their experiences from home with classmates. Building relationships between home and school and inviting parents to share meaningful holidays, celebrations, and traditions with the entire English Garden helps children feel secure. When children see their families actively engaged with the school community they can feel a greater sense of belonging and support. For this reason we encourage parents to be involved, and are very thankful for all the hard work parents put into supporting the school community.