NEWS FROM THE ENGLISH GARDEN
06 October 2017
The children at the English Garden have been enjoying lots of fun autumn themed arts and crafts. The cool autumn days have begun and the children are enjoying the colourful leaves and fresh air. After the first month of the school year the children have settled into their groups and are building positive relationships with their teachers and forming friendships with peers. This is a wonderful time during the school year, when the classroom routines are well established and the children feel safe and confident in their learning environment, allowing them to focus more intently on classroom activities. The different classes at the English Garden have been exploring autumn themes through a variety of exciting, hands-on learning experiences.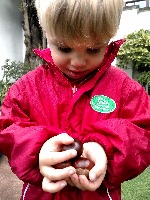 The oldest children have all been learning about weather in their science lessons. The children explored how the weather changes with each season and how they need to adapt their clothes according to the climate.
The Crickets (Year 1) enjoy playing an interactive seasons clothing game as part of their learning.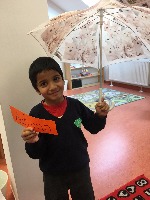 The Grasshoppers examined different autumn products as a continuation of their science class.
The Beetles (Year 2) each created a short independent writing piece on their favourite season.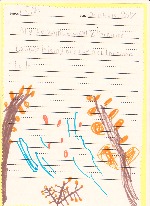 The Dragonflies and Bumble Bees went on a trip to nearby Orczy Kert. The children liked collecting autumn treasures and exploring outdoors. In the classroom they are learning about autumn through stories, rhymes, and games.
The Dragonflies look at autumn berries on their walk back to school.
The Bumble Bees have fun examine different falling leaves.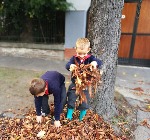 In Ladybirds and Butterflies have been busy making lots of lovely autumn arts and crafts. The children are developing their fine and gross motor skills through a range of activities, including painting, printing, cutting, colouring and sticking. The teachers support them to develop hand skills and learn how to safely handle scissors and other tools.
A lovely leaf print by a Ladybird child.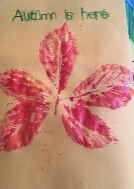 A Butterfly decorates a colourful autumn tree.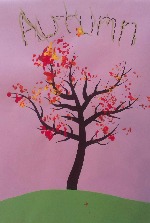 The Nursery School children are busy learning and exploring. Arts and crafts are a great way for toddlers to develop their cognitive and motor skills through talking, touching, seeing, and doing. The Nursery groups have been exploring lots of different arts techniques and building the children's concentration and language development through teacher guided activities.
A Buttercup learns to recognise autumn colours.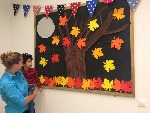 The Snowdrops children made lovely autumn collages.
The Poppies created autumn trees with finger paints.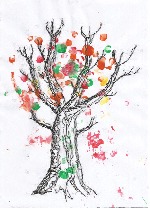 Arts activities are an important component of the English Garden curriculum and even the smallest children at the Baby Daycare are encouraged to explore their senses through arts and crafts. They also had plenty of opportunities for outdoor play.
A Bluebell discovers a passion for finding conkers.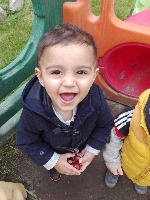 The Daisies enjoy looking at the wonderful autumn colours.