NEWS FROM THE ENGLISH GARDEN
18 August 2017
This was the final week of the English Garden Summer School which has seen nearly 100 children attend for one week or more> From native speakers to new language beginners, babies through to pre-teens, we have loved learning and exploring with children from all over the world.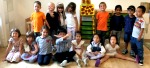 In the Baby Daycare the topic for this last week was "Farm Animals!" The babies and young toddlers continued to learn about animals focusing on those which can be found on a farm and learning some traditional nursery rhymes so everyone could make some animal noises! They made this lovely chicken handprint as part of their art and craft activities.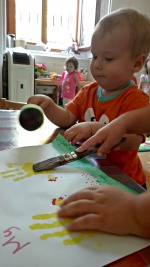 Meanwhile the Nursery School children were learning about "Cooking and Healthy Eating" with lots of hands-on activities spreading, pouring, mixing and baking. They loved the opportunity to make different snacks each day to take home and learnt the name of many new ingredients including lots of fruits and vegetables.
The Nursery School children also went on a little adventure to the local Supermarket to buy fruits for their homemade fruit salad!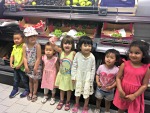 For the older three groups the theme for this final week was "Paradise Island" which saw the Infants, Juniors and Seniors create their own perfect location. The Summer School drama also provided the children with pretend paradise scenarios which encouraged the children to act out different situations.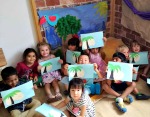 The children taking part in the Intensive English lessons used this topic to strengthen their vocabulary knowledge, verbal language skills and enhance their reading and writing abilities, it gave many of them the chance for creative writing.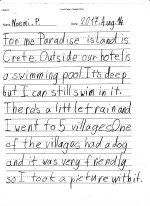 The Infants had lots of arts and crafts sessions exploring the topic with different island focused pieces. They made beautiful tropical necklaces which improved their fine motor skills and everybody proudly wore throughout the week. They also enjoyed role playing on their pretend Paradise Island.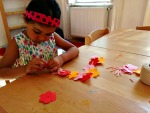 Many of the Juniors were also inspired to make their own necklaces along with island illustrations, palm trees and beach pictures. They liked listening to stories about island adventures and looking at different island locations from around the world.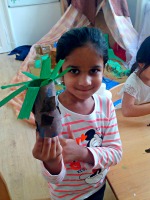 The Seniors also enjoyed the topic discovering more through learning about sustainable environments. They explored different environments around the world; looking at those more unusual locations in which to have a holiday adventure. They made a fact filled booklet and some very creative artwork on their idea of a "Paradise Island".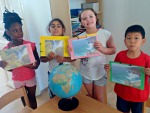 On Friday everyone had the opportunity to cool down either taking a plunge in the FRADI junior pool or splashing about in paddling pools at the English Garden.