NEWS FROM THE ENGLISH GARDEN
28 July 2017
The theme for week five of the English Garden Summer Camp was Wild Dimensions. The children in the pre-school programme explored exciting animals and their habitats through a range of hands-on activities. This week the children make their own animal short bread cookies, experimented with arts and crafts techniques, took a trip to the Budapest Zoo, and cooled off with a swimming session at FRADI. In the Intensive English programme the children are working on developing their English communication and literacy skills through structured daily lessons. In the Nursery the children learned about dinosaurs with the fun weekly theme Into the Past – Dinosaurs. The Baby Daycare programme offered lots of fun activities focused on their Pets weekly theme. The children loved water play, process art activities, and lots of story time.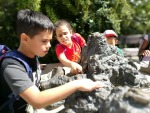 The Seniors group loved learning about different habitats and the unique animals that inhabit them. They made their own rain sticks after learning about theses traditional instruments found in a range of diverse cultures across the Americas, Africa, Asia and the Pacific.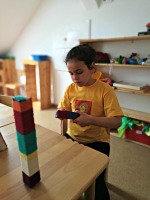 The Juniors group loved decorating their classroom like a lush jungle. They made a large giraffe from recycled materials and hung green streamers and paper chains around the classroom to look like vines and grass.
In the Infants group the children made giraffes out of cardboard tubes. This fun recycled art project encouraged the children to develop their fine motor skills.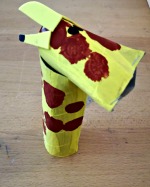 The Nursery programme focused on lots of fun art activities, including painting and making dinosaur footprint using stamping techniques. The children loved using the plastic dinosaur toys during the art lesson.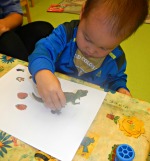 In the Baby Daycare the children cooled off with a fun water play session. They enjoyed floating paper boats in the paddling pool and splashing in the cool water.