NEWS FROM THE ENGLISH GARDEN
21 July 2017
Week four of the English Garden Summer Camp was all about exploring, making and doing. The children in the pre-school programme explored the theme Design Empire through a range of exciting and educational play and arts activities. This week the children make their own gingerbread houses, experimented with arts and crafts techniques, took a trip to Miniversum, and cooled off with a swimming session at FRADI. In the Intensive English programme the children are working on developing their English communication and literacy skills through structured daily lessons. The Nursery and Baby Daycare programmes offered lots of fun activities focused on the theme Water Transportation. The children loved water play, process art activities, and lots of story time.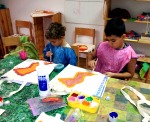 The Seniors group decorated bags to take home all of the treasures they made throughout the week. The oldest group learned about architecture and fashion design. The children designed their own cities, made buildings out of recycled materials, and sewed their own jewelry and wearable artworks.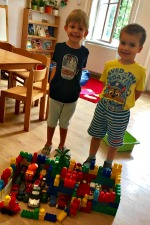 In the Juniors the children loved exploring construction toys and making art projects from recycled materials. The Juniors group made lots of fabulous cities, houses, and vehicles with Lego and Duplo blocks. The children worked together, developing their language and social skills. They especially loved the trip to Miniversum, where they got lots of inspiration from the professional dioramas and miniature figures.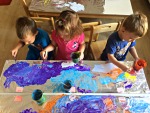 The Infants group explored several process art activities, including cosmic painting. The children loved painting a space age mural on shiny tin foil. The teachers in the Infants group encouraged the children to develop their fine and gross motor skills through lots of play dough, painting, and drawing.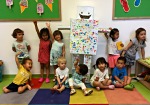 In the Nursery the children worked together to make a giant robot out of old cardboard boxes. The children loved decorating their robot, and applying glue and tin foil to the boxes. The whole process took several days, and the children learned how to cooperate and work towards a common goal.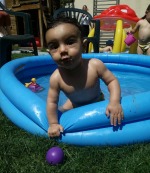 The babies at the Baby Daycare kept cool with lots of fun water play. They explored the theme Water Transportation using water tables and paddling pools. The babies were encouraged to play with boats, cars, and trucks in the water.