NEWS FROM THE ENGLISH GARDEN
14 July 2017
Week three of the English Garden Summer Camp was filled with fun adventures. The children in the pre-school programme learned about dinosaurs through a range of exciting and educational play and arts activities. This week the children baked green dinosaur muffins, took a trip to the Hungarian Natural History Museum, and cooled off with a swimming session at FRADI. In the Intensive English programme the children are working on developing their English communication and literacy skills through structured daily lessons. The Nursery and Baby Daycare programmes offered lots of fun activities focused on the theme Under the Sea. The children loved water play, process art activities, and lots of story time.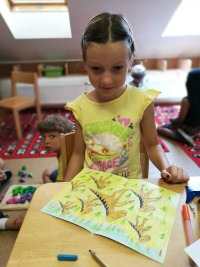 In the Seniors group the children decorated their classroom with dinosaur artworks. Using reference materials to support their artwork, the children worked hard to make realistic dinosaur pictures. They liked using a range of materials to make different pictures, including making a fossil skeleton out of ear buds.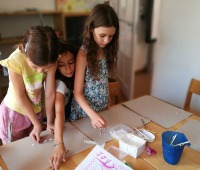 In the Juniors group the children went on a fun dinosaur obstacle course in the pre-school garden. They loved following the teacherís instructions and using the large outdoor play equipment to move in exciting ways.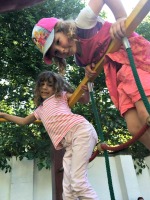 The Infants group made a volcano and learned about the bubbling reaction when vinegar is mixed with soda bicarbonate. The children loved mixing the ingredient and watching the foam rise out of the volcano.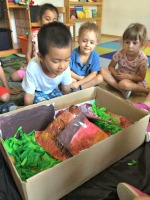 In the Nursery the children explored their Under the Sea theme through sensory play, including water play with coloured water. The blue water was made with food colouring, and the children enjoyed exploring volume and measure by pouring liquid into different containers. They also played together, imagining they were washing the dishes, sailing in boats, and drinking tea. Sensory play is a great way for children to build mathematical concepts, motor skills, and social skills like sharing and communicating.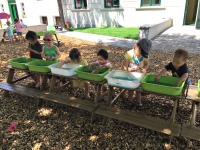 The babies in the Baby Daycare liked playing with undersea animals in the water tray. The children listened to a simple story and some of them were able to point to the different animals that live underwater. The teachers supported the babies to explore the water tray and find and match the undersea animal pairs.