NEWS FROM THE ENGLISH GARDEN
07 July 2017
The second week of the English Garden Summer School was joined by even more children who originate from over twenty different countries! From native speakers to new language beginners, babies through to pre-teens, a busy week was had by all.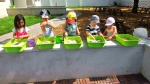 In the Baby Daycare the topic for this week was "On the Beach"! The babies and young toddlers continued to enjoy water play and also loved exploring their new sand pit where they got to grips with buckets and spades and sensory play with the sand.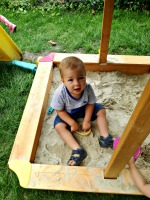 Meanwhile the Nursery School children were also learning about "Going to the Beach" and had lots of hands-on activities with water, sand and sea shells. They loved pretending to be at the beach trying out swimming hats and goggles or pretending to read on a beach towel!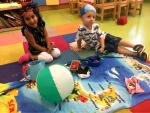 For the older three groups the theme this week was "Space Zone" which saw the Infants, Juniors and Seniors create giant rockets and spaceships.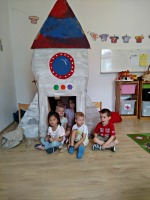 The children taking part in the Intensive English lessons used this topic to strengthen their vocabulary knowledge, verbal language skills and enhance their reading and writing abilities, it gave many of them the chance for creative writing.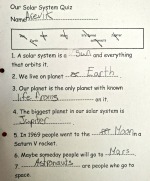 The Summer School drama provided the children with pretend space travel, encouraging the children to act out and talk about different scenarios.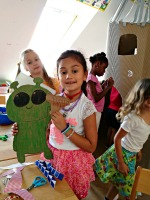 The Infants had lots of arts and crafts sessions exploring the night sky with shooting stars, rockets and the solar system. Their trip this week was to the Lurdy Playhouse which proved lots of fun for everyone.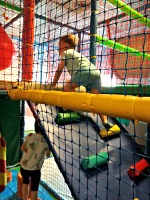 The Juniors enjoyed their trip to Millenáris where they explored the amazing Gateway to Space. This inspired them to create their own Space pictures and design some very cool Space Helmets!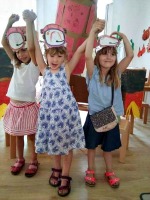 The Seniors also enjoyed the Gateway to Space exhibition discovering more through the hands on activities. The oldest children have delighted in making and creating things of all sizes from a joint giant spaceship to individual mini rockets.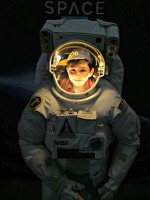 On Friday everyone had the opportunity to cool down either taking a plunge in the FRADI junior pool or splashing about in paddling pools at the English Garden.