NEWS FROM THE ENGLISH GARDEN
30 June 2017
The first week of the English Garden Summer School was filled with fun and excitement as the children explored the theme Global Fortress. The English Garden offers fun summer camp programmes for children aged 20 weeks to 10 years. The summer programme runs from 26th June to 18th August, with lots of fun and enriching experiences for young children. The summer camp programme for children aged 4 to 10 offers excursions, swimming and daily Intensive English opportunities. The English Garden Nursery and Baby Daycare continue to provide regular care, learning and development for babies and toddlers up to the age of 4 during the summer session.
The Seniors group worked together during the arts and crafts session to create a giant castle playhouse for their classroom. The children loved cutting, assembling and decorating the cardboard castle.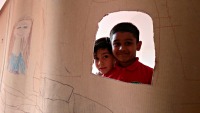 Children aged 4 and up are able to attend optional Intensive English lessons to strengthen their verbal language skills and enhance their reading and writing abilities. This class provides intensive one-on-one or small group instruction in English and helps support expressive language skills, comprehension, and literacy.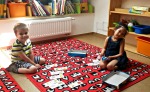 The Summer School drama sessions are a fun way for the children to develop language and communication skills and build pro-social behavior. These sessions combine music, movement, and drama activities to holistically nurture children's physical development, language and social skills. The Infants group loved pretending to cross a castle moat and role playing during their drama session.
This week the Summer School took a trip to Gellert Hegy to explore the Castle Hill and play in the newly renovated playgroup. The Juniors group loved the new playground equipment, especially the large slides!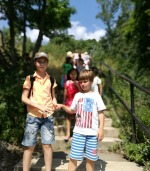 On Friday the children aged 4 and up enjoyed a swimming session at FTC Sporttelep in nearby Nep Liget park.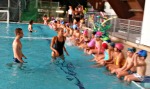 In the Baby Day Care the babies and young toddlers enjoyed a summer splash session. The children were invited to play in the paddling pool and explore the water. This fun sensory experience helped keep everyone cool in the summer heat.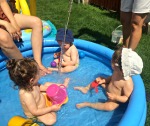 The Nursery children learned about road safety through lots of fun, hands-on activities. They loved riding on the motor bikes and learning how to cross the street. Dressing up as police officers, race car drivers, and crossing guards was lots of fun too!