Nursery Facilities
The English Garden Nursery is located in a large nineteenth century house no more than a hundred metres from the English Garden Pre-School. The nursery has a small enclosed garden where babies and toddlers can safely explore and play. The entrance is through a security gate to allow parents easy but secure access.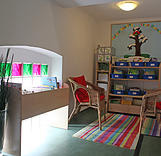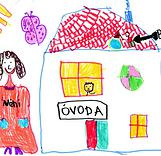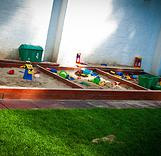 The Nursery has exclusive use of one floor of the building; it is a bright and colourful setting where youngsters will quickly feel comfortable and secure. There are separate baby and toddler day rooms where the children can mix with those of a similar age; to play, take a nap or spend time with their professional carer. There is also a large playroom where both babies and toddlers can come together for different stimulating activities throughout the day.
In addition to the Baby Room, Toddler Room and Playroom there are cloakroom facilities, a dedicated dining area where the children can eat meals and snacks together, as well as bathroom and nappy changing facilities. There is modern fitted kitchen which is only accessible to adults.
The English Garden Office is located nearby on the upper floor of the English Garden Pre-School building. In the garden of the English Garden Pre-School we have the Parents' Centre where Mums and Dads have the opportunity to meet at the start or end of each day. With free refreshments, it is an ideal facility for all our families, a place to meet up and catch up on Budapest life.
Discover more